The skate decks online shop to cover all of your riding needs
As the skateboards and skate culture of the past decades have gotten more advanced than anyone could imagine, nearly every skateboard manufacturer keeps trying to claim a newer and better deck design. But there's an ever-growing market not just for the hottest and hyped-up stuff. From reissuing to reimagining old-school decks, to creating custom shapes and limited deck designs, skateboard deck companies go above and beyond to please unique users.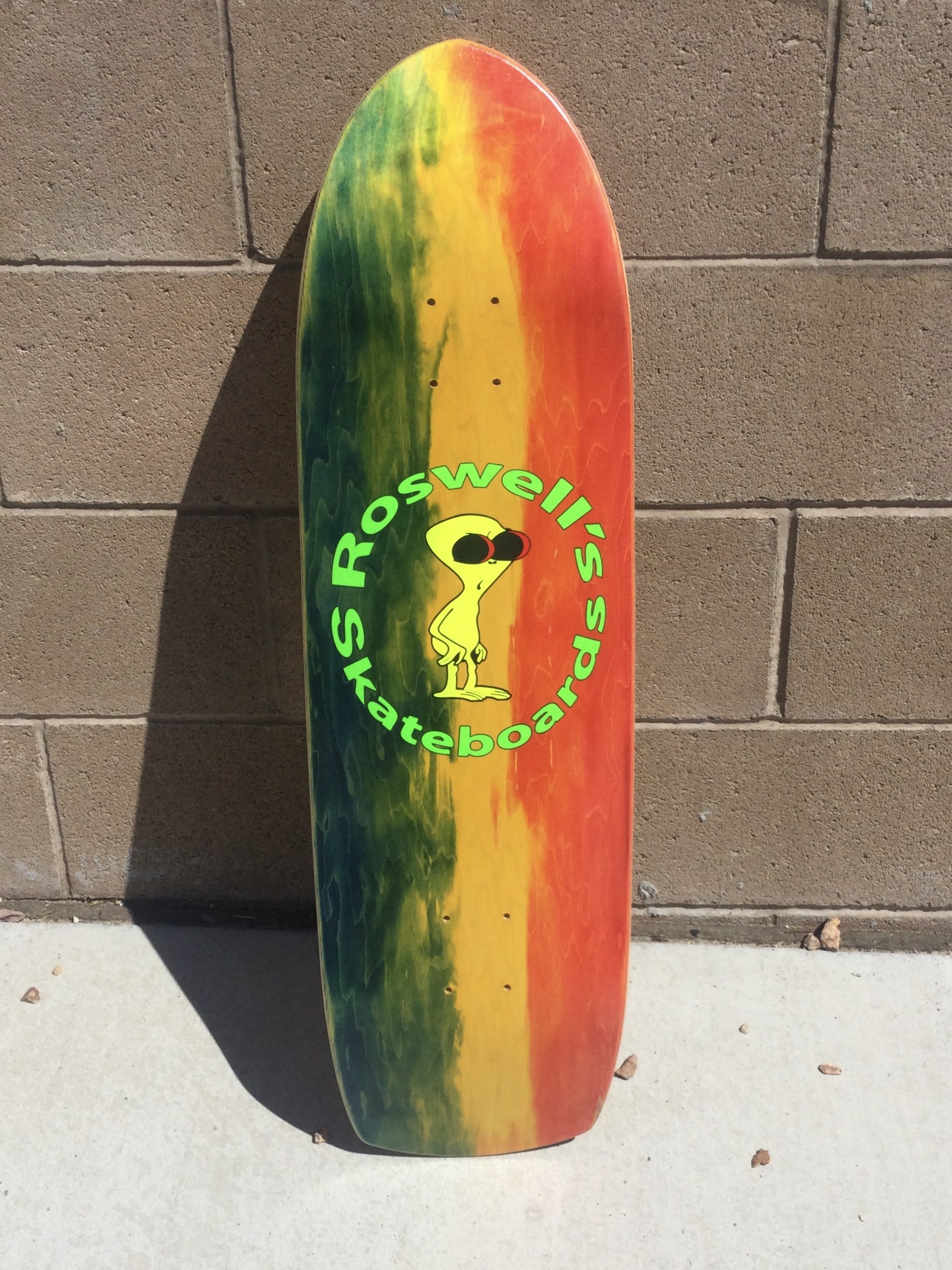 Still, why fall for all sorts of marketing ploys when you can make a better investment in your riding and carving experience? Rather than getting a cool-looking completes that will require replacements due to low-quality bearings or bushings, you can buy skate decks online for the best performance and appearance with Roswell's.
The style and functional details are tuned to perfection. Whether you're aiming for higher pops, hitting the ramps and pools, cruising the streets, or hopping on daily trips to the store, you can get a board and build it to your preferences and performance level. Buy skateboard decks online at Roswell's and enjoy something designed to stand the test of time and the streets will be yours. Shop essential skateboard parts and other accessories if you are looking for premium quality when choosing a board that feels just right under your feet.
Roswell's skateboard decks for the best quality and maneuverability
Our deck designs are born from a passion for skateboarding as a sport turned into a source of inspiration. The skateboard decks for sale online at Roswell's combine great value with our commitment to creating products with a difference – the decks that roll smoother and faster and make your experience more fun.
Made of premium-quality multi-ply maple veneer, they are lightweight, american made and great for cruising and doing tricks. Whether you prefer trick boards or classic skateboard decks for a bit of old-school flair. you will find the right one in our collection.
Their smaller size ensures a smooth and fast ride with better maneuverability. The Mini Perfect Cruiser is a way to go if you want an excellent combination of street riding, tricks, and flips while being able to fit this all-around fantastic experience in your backpack to carry it along. Roswell's skate decks allow you to practice your moves and tricks in any spot while also making your commute easier. They proudly bear the Perfect Cruiser name for a reason.
Create your dream deck
You can build your own board with a bit of practice and patience, which feels like an achievement already. But it's even more rewarding to step on it and enjoy the result.
Roswell's has been offering an option of custom skateboard decks for years to let you build products that are great for riders of all skill levels. They all provide enough grip and speed for showing off tricks and double as a convenient mode of transportation in urban areas.